Keyword: Vacuum Pumps for Woodworking
It is well known that the vacuum pumps are widely used in semiconductor, pharmaceutical and chemical industries. Some applications of the vacuum pumps however, are not clear for many people, for instance, in the woodworking industry.
Before and after processing, the wood needs to be properly protected from the adverse effects of the external environment, such as temperature, humidity, pests and microorganisms. Therefore, the wood is protected by soaking it in a solution containing a preservative before processing. The wood is degassed and dried by a vacuum pump, which allows the preservative to penetrate deeper and improves the protection greatly.
In the past it takes several weeks to dry the wood. Today, this process is shortened to 3-4 days by using a vacuum pump.
🡲 Fixation during machining
To ensure the safety of woodworking, the workpiece is usually fixed firmly to the machine automatically by vacuum suction.
The woodworking CNC machines such as CNC engraving machines are increasingly popular in the market. The key features of these machines are higher efficiency and precision. Wood cutting machines as a kind of automatic CNC equipment, are also developed to meet the needs of the woodworking industry.
The vacuum work table of a wood cutting machine is equipped with a vacuum pump. It is used as the power source for absorption. The workpiece is placed directly on the table of the carving machine and can be tightly fixed automatically. It saves time and ensures the quality of machining and engraving.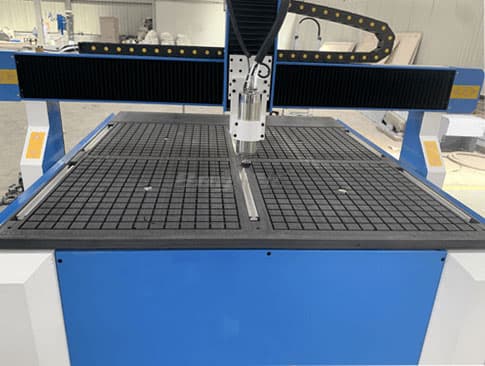 The particular advantage of the vacuum work table is that that even irregularly shaped workpieces can be tightly fixed to the table without any vibration that would affect the engraving during the machining process. Consequently, the vacuum work table will improve the engraving accuracy and work efficiency, especially for inner, lighter or irregular workpieces because the small shifting caused by machine vibration is solved.