Approved Pump Life of
170,000

Cycles
Quality Rotary Vane Vacuum Pump Manufacturer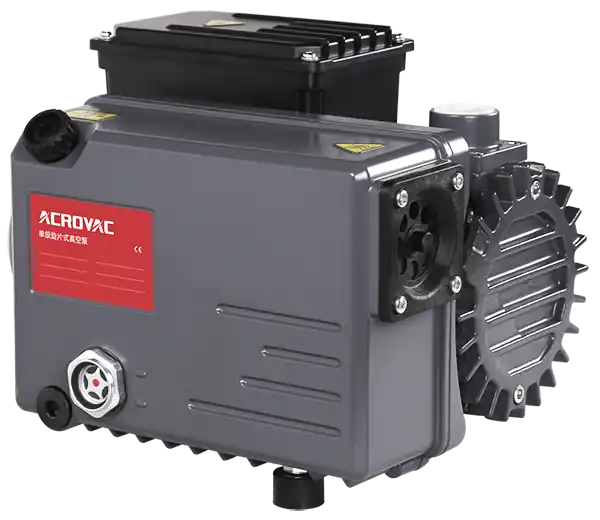 Industrial Oil Sealed Single Stage Rotary Vane Vacuum Pump
Industrial Level Oil-Sealed Single Stage Rotary Vane Vacuum Pump (Rotary Vacuum Pump)
Cost-effective and High Performance
Flow Rate of 20 m³/h, Ultimate Pressure of 2 mbar, Motor Power of 1 HP (750 W), Both 1-phase and 3-phase Available
Trusted by dozens of well-known brands
Cost-effective and High Performance Industrial Oil-Sealed Single Stage Rotary Vane Vacuum Pump (Rotary Vacuum Pump)
Applicable for Vacuum Packaging, Food Processing, Thermoforming, Vacuum Degassing, Drying, Coating, Vacuum Furnace and Various General Industrial Purposes
Integrated structure for space saving
Specially designed for vacuum packaging machines
Excellent and proved stable performance
High vapour tolerance
Easy maintenance
24/7 continuous operation
Most Popular Models Available
Vacuum Packing
Applied to small-sized vacuum packaging machines
Vacuum Lifting
Picking, lifting and Placing objects effectively
Vacuum Degassing
Extracting gas and vapor from the processed material
Vacuum Forming
Cost effective for various thermoforming products
Vacuum Impregnation
Fixing casting porosity problem to improve quality of metal parts
Vacuum Oil Purification
Helpful to maintain optimal oil cleanliness
Production and Factory Tour
Components
All Incoming parts are under well control.
manufacturing
The pumps are carefully assembled and well packed.
Performance Testing
All pumps are 100% tested before Delivery.
Packing
Strong cartons and pallets are provided to protect the pumps.
Office
Administration for R&D, sourcing, sales and logistics.
Four Good Reasons to Choose Us
10+ years experience
Proved by 100+ factories
Passed life test of 170,000 cycles
Short lead time down to 2 weeks
Strong export packing with good protection
Focus on limited models to ensure high efficiency
Well controlled sourcing cost
OEM services are proudly provided.
Neutral packing is also available.
Frequent Questions You May Have
For the distributors we provide a warranty of 12 months from the loading date issued on the Bills of Lading if it's shipped by sea.
For other deliveries the warranty starts from the date of shipment from the factory.
The standard lead time is 2 – 4 weeks. In peak season from October to March, it's about 4 – 6 weeks.
We're glad to provide OEM service. As a matter of fact, Most of our current customers prefer to have their logo on the vacuum pumps.
We need a minimum order amount of USD 4,000 to cover our fixed logistics and handling cost. However, we accept small quantity from new customers for testing purpose.
Acrovac set up the factory in 2017 with many years' experience of oil-sealed rotary vane vacuum pumps. To meet the increasing demand, Acrovac expanded last year it's plant which has now a production space of 2,000 square meters. However, the export business will be handled by a professional export company to save time and cost.
We accept wire transfer (T/T) as standard: 30% prepayment and 70% balance before shipment.
A 100% prepayment is preferable if the lead time is less than 3 weeks.
Alternative Industrial Vacuum Pumps
Some Related Posts might Be Useful
Let Us Know What you need
Request an Instant Quote for Your Project!