This is to introduce a new range of oil-sealed rotary screw vacuum pumps with various features.
The oil-sealed rotary screw vacuum pump is something new even for most of the veterans in vacuum industry, who are very familiar with dry screw vacuum pumps. The reason is that this pump type doesn't come from the vacuum industry itself. In fact, it's a variation of an air compressor, which is the main business of an international brand with the scope of both air compressors and vacuum pumps in recent years.
The oil-sealed screw pump has a pair of screw rotors running in reverse directions to create variable space in the screw slot to compress and discharge the air. The structure of the screw rotor for the oil-sealed screw pump is more complicated than that of the dry screw pump. However, the total ultimate pressure of the oil-sealed one is nothing better.
With an ultimate pressure of 30 Pa, the oil-sealed rotary screw vacuum pump is ideal for general industrial applications such as packaging, glass, woodworking and printing industries although the figure is less than that of dry screw pumps, which can achieve 5 Pa. 
Features of oil screw pumps
With an integrated design of a robust metal box, Inverter-driven IE3/IE4 PM motor, high performance oil separator and intelligent PLC, the vacuum system features many points such as space-saving, plug & play installation, clean and automatic operation, remote monitoring, and above all, energy saving up to 70% compared with traditional oil-sealed rotary vane pumps. Considering that the system uses a big motor with power range from 5.5 – 90 kW, it's an enormous advantage.
Comparisons of GHS and EVS screw pumps
Although the new range of oil-sealed screw pumps looks impressive, it takes time to introduce them to the market. Nowadays, more and more industrial customers accept this new type of oil-seal screw pump, especially in the Chinese market, which has huge demand of industrial vacuum pumps.
Thanks to years of experience and initial development involvement for these oil-sealed screw pumps, Everblue is now able to present full range of EVS screw pumps to successfully compete against the dominant international giant in China.
Besides cost effectiveness due to well cost control, the performance, models for selection and energy saving rate of EVS series are also advantageous: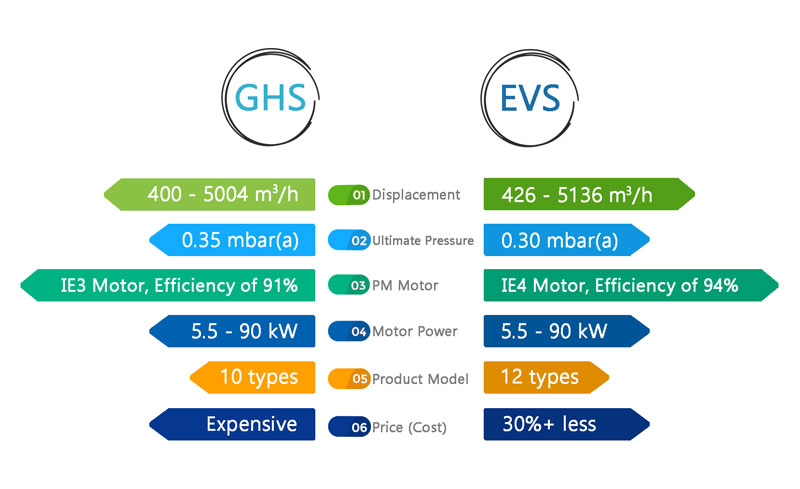 Click HERE to learn more about this exciting new range of oil-sealed rotary screw vacuum pumps developed by Everblue.