The emergence of oil-sealed rotary screw vacuum pumps marks a significant shift in the vacuum industry. This holds true even for seasoned veterans accustomed to dry screw vacuum pumps.
This innovative pump type originates not from the vacuum industry itself, but rather as a variation of an air compressor. It represents a strategic expansion by an esteemed international brand. This brand is renowned for its expertise in both air compressors and vacuum pumps in recent years.
The oil-sealed screw pump operates through a pair of screw rotors revolving in opposing directions. This generates variable space within the screw slot to compress and expel air. The structural intricacies of the screw rotor in the oil-sealed screw pump surpass those of the dry screw pump. Yet, the total ultimate pressure achieved by the oil-sealed variant is unparalleled.
Applications of Oil-Sealed Screw Pumps
With an ultimate pressure of 30 Pa, the oil-sealed rotary screw vacuum pump proves optimal for a broad spectrum of industrial applications. These include packaging, glasswork, woodworking, and printing industries. While not reaching the 5 Pa of dry screw pumps, the oil-sealed variant's performance is still remarkably impressive.
Distinctive Features of Oil Screw Pumps
Characterized by an integrated design encapsulated within a robust metal casing, an inverter-driven IE3/IE4 PM motor, high-performance oil separator, and intelligent PLC, this vacuum system presents a multitude of advantages. These include space-saving dimensions, plug-and-play installation, seamless automatic operation, remote monitoring capabilities, and most notably, energy savings of up to 70%. This is when compared to traditional oil-sealed rotary vane pumps. Given the substantial power range of the system's motor, spanning from 5.5 kW to 90 kW, this represents a monumental advantage.
Comparing GHS and EVS Screw Pumps
While the new range of oil-sealed screw pumps may require time for market adoption, an increasing number of industrial customers are embracing this innovative oil-seal screw pump. This is especially true within the expansive Chinese market, which exhibits a substantial demand for industrial vacuum pumps.
With years of experience and early involvement in the development of these oil-sealed screw pumps, Everblue now proudly presents a comprehensive line of EVS screw pumps. This positions them as a formidable contender against the reigning international giants in China. They offer not only cost-effectiveness stemming from prudent cost control but also superior performance, an extensive model selection, and an impressive energy-saving rate within the EVS series.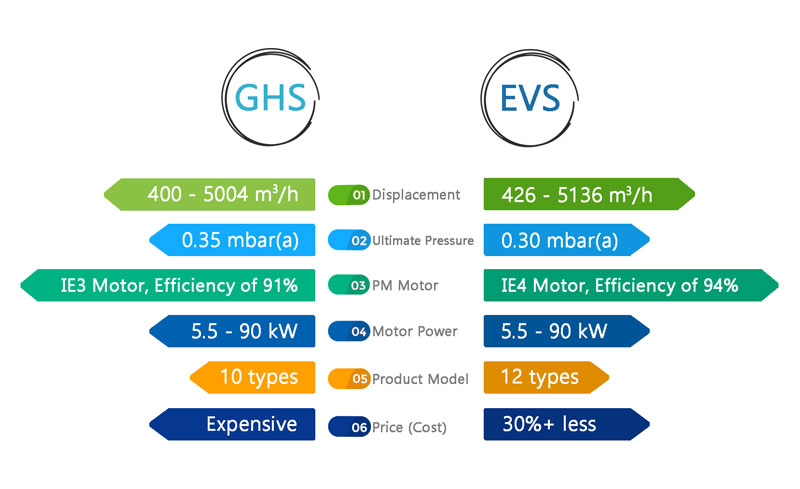 Click HERE to learn more about this exciting new range of oil-sealed rotary screw vacuum pumps developed by Everblue.