There's a nameplate attached to the vacuum pump motor to describe the specifications. So how to read it and understand the meanings? Here's an example.
3~Mot: It's the short form of 3-phase Motor. It means the vacuum pump with this motor is mostly used for industrial applications because the residential homes are usually served by 1-phase power supply.
1LE0001-1AB4 2FA4: The article number of the motor.
LMH-2104/800024481728/012: Manufacturer part number
Key Vacuum Pump Motor Specifications
100L: Frame size of the pump. The range of frame size standards is from 56 to 315L. For 100L, there're some key technical data:
1) The shaft extension diameter is 28 mm
2) The rated output is 2.2 or 3 kW for 4-pole motor
3) The flange type is F215 (free holes, FF) and F130 (tapped holes, FT).
IMB5: Type of construction, International Mounting Code of B5
The two basic types for motor mounting positions are horizontal and vertical. According to IEC standard 60034-7, the horizontal types can be B3, B35, B34, B5, B6, B7, B8, B9, B10, B14, B15, B20, B30 and the vertical types include V1, V15, V2, V3, V36, V4, V5, V6, V8, V9, V10, V14, V16, V18, V19, V21, V30 and V31.
Among them the codes of B3, B35, B5 and V1 are popular in the market.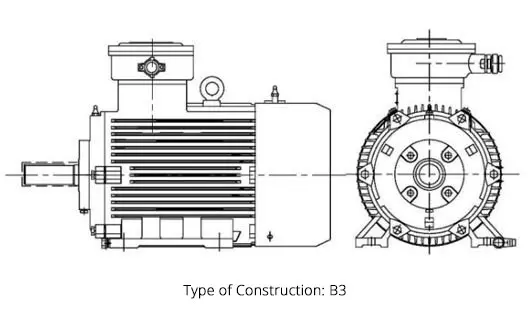 B3: Horizontal foot mounted on floor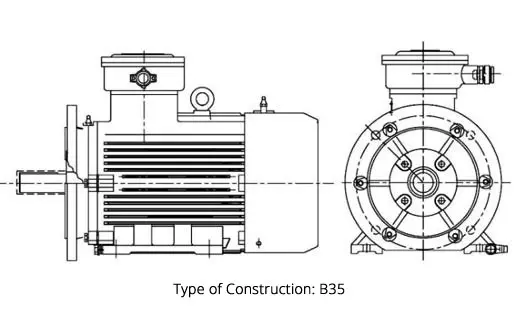 B35: Horizontal flange mounted on floor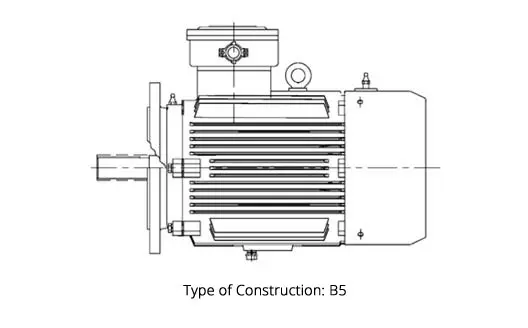 B5: Horizontal flange mounted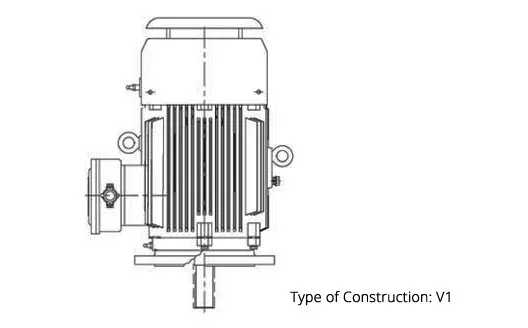 V1: Vertical flange mounted
IP55: It's a water and dust protection class rating. IP55 indicates that the motor protects against dust for up to 55 minutes under water pressure of one bar.
33 kg: The weight of the motor
Th. CI. 155(F): It's the short form of Thermal Class 155°C (Class F). It means the insulation of the motor is Class F with max. working temperature of 155°C (The commonly required Class B allows 120°C when the ambient temperature is 40°C).
BRG DE 6206 2Z C3, BRG NDE 6206 2Z C3: Bearing type at drive end (DE): 6206 2Z C3; Bearing type at non-drive end (NDE): 6206 2Z C3
Q/321081KJA001-2018: Company standard of Siemens China
IEC 60034-30: International standard on efficiency classes
GB18613-2012 Eff.-Grade3: National standards on energy efficiency grades of China
V: Rated voltages: 1) 220V (delta wire connection)/380V (star connection) and 2) 440V (star connection). It's a customized voltage with wide tolerance to meet requirements from different countries.
Hz: Frequencies of 50 Hz and 60 Hz
kW: Rated motor power of 2.2 kW at 50 Hz and 2.55 kW @60 Hz
A: Current of 8.7 A (delta connection)/5.0 A (star connection) @ 50 Hz, 4.9 A @ 60 Hz
EFF. (%): Efficiency in % in according to IEC 60034-30
r/min: Motor rotating speed per minute, 1435 rpm at 50 Hz, or 1720 rpm at 60 Hz. This speed shows it's a 4-pole motor. An approximate motor speed (no load) for 2, 4 and 6-pole is respectively 3000, 1500 and 1000 rpm. In theory, the less the motor speed is, the lower noise the motor generates during operation.
EFF.CL: Efficiency Class of IE2. According to IEC 60034-30, IE1 is standard efficiency, IE2 is high efficiency, IE3 is premium efficiency and IE4 is super premium efficiency.