The resistance vacuum gauge, also known as Pirani vacuum gauge, is thermal conductive to measure the pressure by monitoring the resistance change of the heated metal wire. It is mainly composed of two parts: the gauge and an electrical circuit measuring system. With a measuring range of 102 to 10-3 mbar, the gauge is used in various vacuum technology applications. One of the key applications is to measure the vacuum pressure of vacuum pumps.
Structure of Pirani Gauge
In the gauge tube, there is a coiled metal sensor wire with two electrical leads connected to a measuring system. The gauge tube (Sensor Tube) can be made of metal or glass. Metal tube has the advantages of durability, easy to remove the heated wire. The disadvantages are poor sealing performance and high cost. On the contrary, glass tube has good sealing performance with low price but it's easy to damage.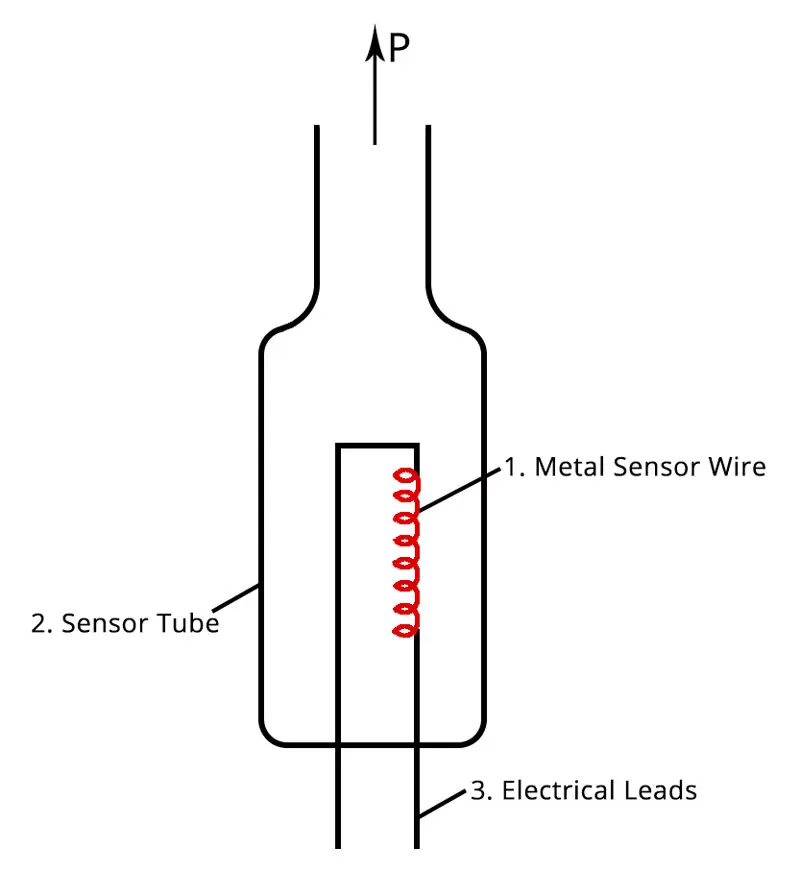 Material for Pirani wire filament
The sensor filament of the Pirani gauge is commonly made of Tungsten, Platinum and Nickel wire. To ensure the stability of the hot wire, it is required to clean the surface of the hot wire. Sometimes, a thin layer of glass, quartz or rubidium is applied to the wire surface to avoid oxidation or tarnishing when the hot wire is used under high pressure. However, it is to believe that this will increase its thermal inertia.
Temperature coefficient of resistance (TcR) and resistivity of some metals
Resistivity at 0°C
px10-8 (Ωm)
Alternative of Pirani Vacuum Gauge
As alternative, the thermocouple vacuum gauge can be also taken into consideration to replace Pirani gauge. It works on the same principle of monitoring thermal conductivity of the gas. Both gauges are widely used to measure in low to medium vacuum range.