One customer recently requires some vacuum pumps with explosion proof motor for refrigeration application to pump R32 gas which is flammable and explosive. It reminds me to collect some information to understand and compare the related standards from China and Europe.
When you need an explosion proof motor?
For safety reasons, an explosion proof motor is always required for some hazardous industrial applications, such as mining, oil and gas recovery, petroleum and chemical refinery, etc.
The explosion proof electric motor, otherwise referred to as ex motor or ATEX (ATmosphere EXplosible) motor, does not produce electric sparks during operation. Therefore, it can be used in flammable and explosive places where the risk of an explosion is high. The motors are used in various pumps (including vacuum pumps), fans, compressors and other machines.
How to understand the motor nameplate?
It is easy to observe that there's an extra mark Ex on the explosion proof motor compared with ordinary motors. Basically, the technical data on the nameplate of Ex and normal motors have no difference, like rated voltage, rated current, motor power, speed and some others.
The Chinese technical standards are developed with reference to the relevant European Directives. Generally, there's no confusion and difficulty to understand the key points of a nameplate on a Chinese ex motor. However, it's better to take a sample to show the meanings thoroughly for proper model selection.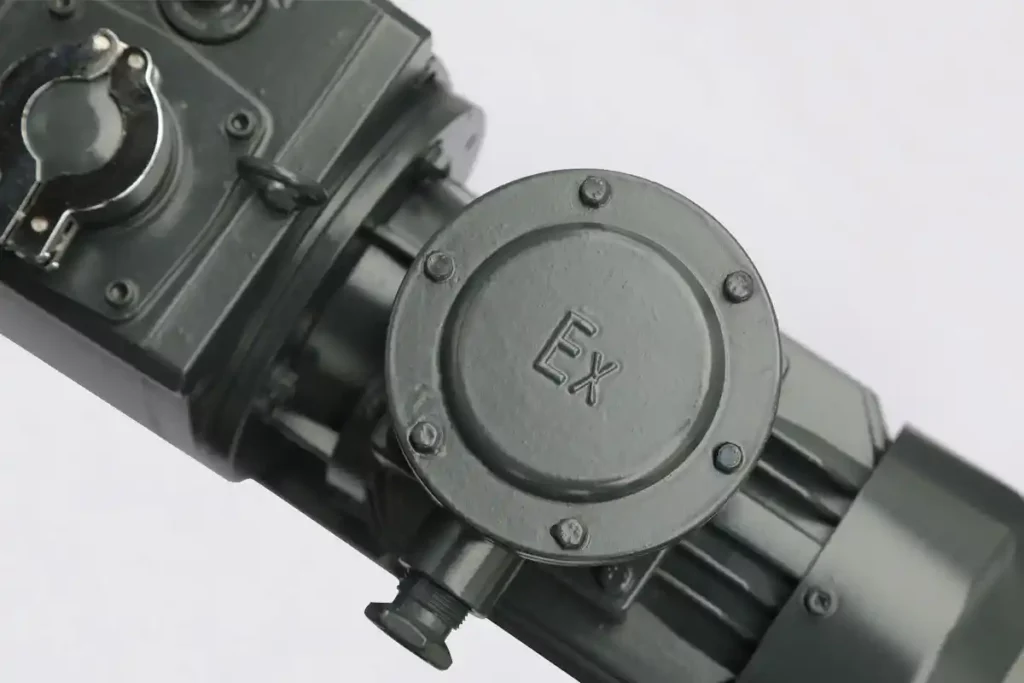 The ex motor used for dual stage rotary vane vacuum pump RVP-4 has the followings on the nameplate:
Motor model: YBX3-71M2-4
Y: Asynchronous motor
B: Flameproof type. Another popular type FB means dust ignition proof.
X: Energy saving type
3: 3rd generation of motor design
71M2: Motor frame size
4: Motor pole
Protection class against explosion: ExdIIBT4Gb
Ex d: It means the ex protection type is Flameproof. Some other popular types: Ex e (Increased safety) and Ex t (Dust ignition proof).
IIB: It is gas group. Totally there're 3 groups for explosion protection: IIA, IIB and IIC. Gases in gas group IIB require a higher ignition energy than gas group IIC.
T4: It is temperature class. The maximum permissible surface temperature has 6 classes from T1 of 450°C to T6 of 85°C. T4 means the max. surface temperature is 135°C.
Gb: Extended level of protection in flammable dust atmospheres
Maintenance of an explosion proof motor
The explosion-proof motors have commonly mechanical faults and electrical faults like:
No load current due to high supply voltage, incorrect stator star connection, incorrect rotor installation, etc.
Phase loss caused by power supply, control circuit, terminals or cable.
Temperature rise generated by low voltage of power supply,  winding short circuit, motor overload, poor ventilation, damaged fan, etc.
To ensure the safe and long time service of the motor, it's recommended to conduct a regular motor maintenance.