Composite materials revolutionizing wind power generation
As traditional fossil fuels deplete, attention shifts to renewable energy sources like wind and solar power. This sector has become a promising endeavor in the energy industry, witnessing rapid growth worldwide, including China. Projections indicate a 20% annual growth in the global market for large-scale wind turbines, with China potentially surpassing this rate.
The global wind power sector is undergoing intense competition, with domestic developers striving to catch up to international wind power giants. The advancement of the industry heavily relies on the design and manufacturing of wind turbine blades. The materials and manufacturing processes used in these blades are crucial for their development. Composite materials, in particular, are widely utilized in the production of rotor blades, nacelle covers, and fairings in the wind power field.
Enhancing efficiency: The project in wind turbine blade manufacturing
A leading wind turbine blade manufacturer (referred to as "the company") achieved over 50% energy savings. They accomplished this through equipment upgrades, specifically adopting a state-of-the-art central vacuum system in 2020. This innovative system provides a vacuum environment for resin infusion, resulting in increased energy efficiency, reduced noise, and minimized heat emissions. The centralized vacuum system is installed in a dedicated facility, catering to the vacuum needs of all production areas within the company.
Established in 2001, the company employs around 2500 workers in its wind turbine blade factories. Following a three-shift system, they manufacture various blade types, reaching lengths of up to 45 meters. Employing vacuum infusion process, all components of the wind turbine undergo resin infusion and assembly. Workers manually insert glass fiber and other materials into a sandwich structure, sealed with plastic film to prevent leaks. The mold is then vacuumed, resin infused, cured, and the component extracted.
In the past, the company used a decentralized vacuum system with rotary vane pumps. These pumps were fixed or mobile, providing vacuum pressure through pre-installed pipelines. With 36 pumps, operating in shifts, components were extracted and infused into molds, manually controlled with valves.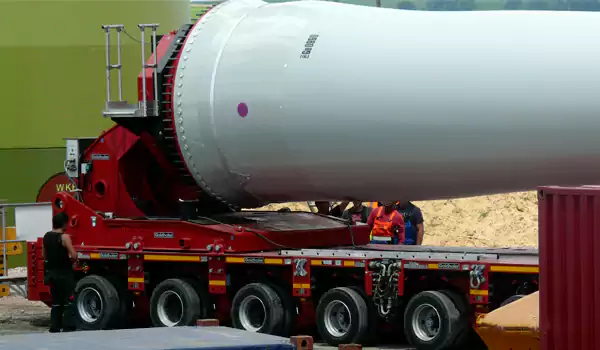 Optimization of the vacuum system
The head of the company's process planning department sought an optimized solution. The existing system had drawbacks like heat and noise from those rotary vane pumps. They aimed for an automated, continuous vacuum solution ensuring production stability and safety. After thorough analysis, they implemented a centralized vacuum system with independent variable frequency screw vacuum pumps. The system was tailored to fit the existing pump room size, with a dedicated control room.
During installation, four screw vacuum pumps were connected to the main circular pipeline spanning the company's facility. They maintained a predetermined vacuum level for rapid mold vacuum extraction. Two additional pumps were connected to an independent auxiliary pipeline for resin infusion after initial vacuum extraction.
After initial vacuum extraction, internal valves automatically switch between two pipelines during resin infusion. This dual-pipeline solution, along with intelligent vacuum control technology in the control panel, ensures stable and secure resin infusion. The intelligent vacuum control system also records and saves data throughout the production process.
As processes connected to the molds don't occur simultaneously, there are significant variations in required vacuum levels. A demand-based control system adjusts the pump speed accordingly. The variable frequency screw vacuum pumps run at full load, activating a second pump and reducing speed if necessary. The control system automatically opens additional vacuum pumps to increase speed.
The system operates in a cyclical manner, ensuring equal runtime for each vacuum pump. Installed in a separate room, it eliminates adverse effects on the workplace from noise or heat emissions.
Satisfactory performance of the vacuum system
Since its implementation, the centralized vacuum system has impressed the company, meeting performance requirements and achieving significant energy savings. Evaluations indicate over 50% energy reduction. Previously, 36 rotary vane pumps were used, and now only six screw vacuum pumps are required, with one serving as backup.
The reduction in energy consumption is not solely due to the number of vacuum pumps. Intelligent demand-based control also plays a vital role. Previously, vacuum pumps operated continuously, but now each screw vacuum pump has significantly reduced runtime. This reduces maintenance requirements. Furthermore, the decreased number of screw vacuum pumps compared to rotary vane pumps lowers maintenance costs. Maintenance operations can be performed by utilizing the backup pump temporarily while individual screw vacuum pumps are shut down.
Until now, the vacuum system has been consistently operating in the factory, ensuring stability and high efficiency, and maintaining continuous productivity.